ABOUT LOLA WALLER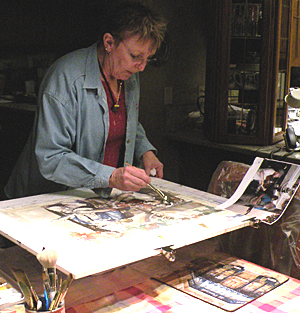 Lola Waller was born in Seattle and grew up in Washington State.
Following a tragedy in her early adulthood, she enrolled at Green River Community College to study art, which led to an associate of arts degree in 1995. She took all the classes offered, studying under Department Head Dr. Bernard Bleha. Many more classes followed under the tutorage of different instructors.
Only recently, after taking Jerry Stitt and Deanne Lemley workshops, has her passion been revived. Lola has also studied with renowned European and American artist Leonid Gervits, an art professor in New York City. He is a winner of national and international art competitions. He was born and raised in Leningrad, Russia and studied at the famed Leningrad University of Art before emigrating to the US.
Light, vibrant color, and intriguing subjects are her desired results. "I want the viewer to be drawin into my work," Lola says. Watercolor is her medium of choice.
Lola Waller's artwork can be seen at Waters Edge Gallery and Executive Terminal in Gig Harbor, Washington, Sidney Art Gallery & Museum in Port Orchard, Washington, Narrows Landing at the Tacoma Narrows Airport, where she was the Featured Artist in October 2008, Catholic Community Services in Tacoma on 13th and Yakima Streets in their lobby, and in the Gig Harbor Maritime Museum conference rooms. She is a member of the Peninsula Art League.
Lola is currently painting on gallery-wrapped canvas with watercolor. This is an exciting new adventure in her artwork and one that enhances color. With the absence of framing under glass her work has a different look and feel for the viewer.
Lola lives in Gig Harbor, Washington. She welcomes commission opportunities. Please get in touch to discuss your special project.